Introduction
Out of curiosity for myself and to share with others, I've gathered some info on Outland and Burning Crusade as to what a horde character will most likely experience playing in the expansion. I am not in the beta, so all this info is gathered from sites that have information on the beta. This information has been collected and gathered from
http://wowwiki.com
,
http://worldofwar.net
,
http://atlasmod.com
,
http://wowhead.com
,
http://tentonhammer.com
,
http://wowinsider.com
as well as some others.
Preparations
Before heading into the Dark Portal, I'd recommend reading this quick little article written by some beta testers regarding things to bring and not to bring into outland. The most important one being runecloth for first aid. I think the other points the author makes is less important. Chances are, everyone already has their trade skills maxed and healing potions are always a good thing to have. And
here is some info
on what you expect to happen to your gear in Outland. In summary of the link, do not worry about anything bellow Tier 2 gear. It's going to get replace quickly and PVP weapons will last the longest.
I am personally planning on selling most of my gear that is not part of my Grinding/Questing set to save the bag space for valuable Outland drops as well as those nagging quest items (remember those?). Considering that a majority of the materials and recipes in outland is high level, I'll also be making room in my bank by moving materials to make anything that is less then level 40 to a bank character (You know, for the Blood Elf Alt).
Your quest log will be something else you'll want to clear. Here's a good
rule of thumb
on cleaning out your quest log.
*Do I want to put the effort into finishing this quest?
*Do I have the extra time available to finish this quest?
*Do I want the reward for this quest?
*Is this quest doable with my available resources?
*Have I made any progress that I don't want to abandon?
What I took from this is make sure you have plenty of room in your bags and log for brand fucking new quests.
First Steps
It is worth noting that the area around the dark portal is declared a "sanctuary" which means that no PVP can take place under any circumstance
Open entering the dark portal from Azeroth, you will find yourself in the Hellfire Peninsula in Outland. At the Outland side of the dark portal, there is a flight path, be sure to pick this up before going and exploring. North-west from the dark portal, following the road, you'll find your first horde town called Thrallmar. Not far from Thrallmar, is the first 5man dungeon you'll encounter, Hellfire Citadel (More on this later) located in the center of Hellfire Peninsula and south west of Thrallmar. One of the early orders of business will be collecting flight paths to several key destinations.
One tip I've heard about flight paths: the first few flight paths have little disovery quests that send you on a delivery (or whatever) using a flight path you haven't discovered yet. That means you can learn some flight destinations without actually walking over there. Fucking cool IMO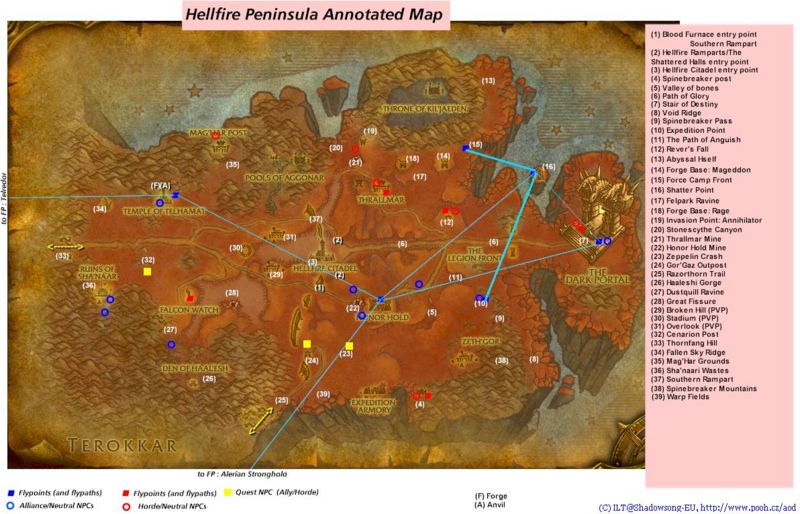 Thrallmar has a flight-path, but won't be a full blown city like Org or IF. Thrallmar does have its own faction as well as NPCs that teach new ranks of various professions:
Alchemy
, Blacksmithing (most likely but I could not confirm),
Enchanting
,
Engineering
, Herbalism,
Leatherworking
,
Mining
,
Skinning
,
Tailoring
, as well as the vendor that sells the new rank of
Cooking
.
South of Hellfire Citadel, you should find a horde outpost called Spinebreaker Ridge where another Flight-path can be found. Where you really want to go, southwest towards Terokkar forest where the main city of Outland can be found, Shattrath city.
I am assuming that once you get your Flight Path in Shattrath, you will want to go back to Hellfire Penninsula for questing and leveling.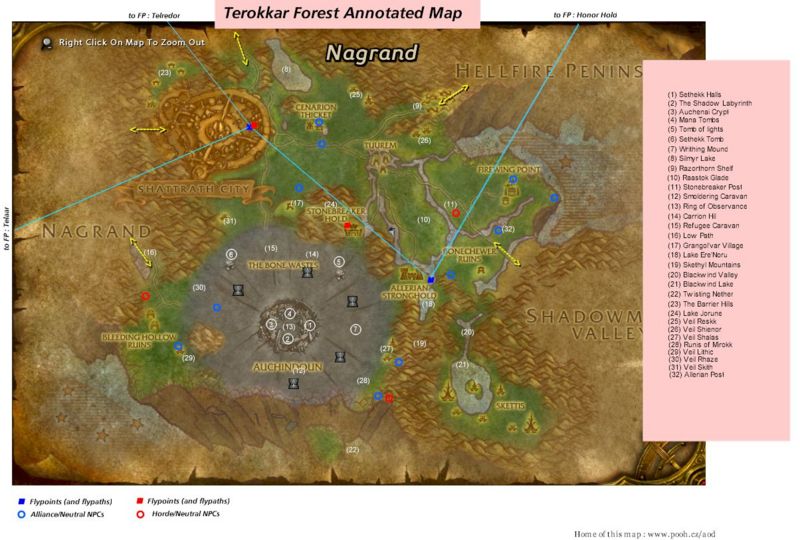 Upon entering Terokkar Forest, go straight west until you reach Shattrath City.
This will most likely be everyone's hearth location.
Shattrath city will have portals to the four major horde cities in Azeroth (including the blood elf's Silvermoon City). Mages will also be able to learn portal spells to Shattrath. I read somewhere that Shattrath city will also have an Alchemist Lab to make flasks, no more shitty runs through Scholomance. There will not be any class trainers here, only profession trainers. To train up, see your class specific trainer in one of the four Azeroth Cities.
West of Thrallmar is Falcon Watch which also has a flight path, but is not a full blown town either. This is a pretty critical stop for the fact that the vendor that sells the new First Aid book is here. There is a total of four Flight Paths in Hellfire Peninsula to get around. East: Dark Portal, North Thrallmar, South Spinebreaker Ridge, West Falcon Watch.